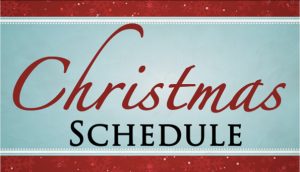 Heads Up!
Christmas Eve is on the 4th Sunday of Advent this year – Sunday, December 24. To make it (music, decorating, family schedules,
clergy and staff energy) all work this year, our plans are:
Sunday, December 24
Fourth Sunday of Advent Service
9 a.m. –  Combined morning service, with hymns.
No Sunday School.
Christmas Eve Services
3 p.m. –  Holy Eucharist
4:30 p.m. –  Children's Eucharist with Christmas Pageant
10 p.m. – Choral Eucharist; Prelude at 9:45 p.m.