Mission Partnerships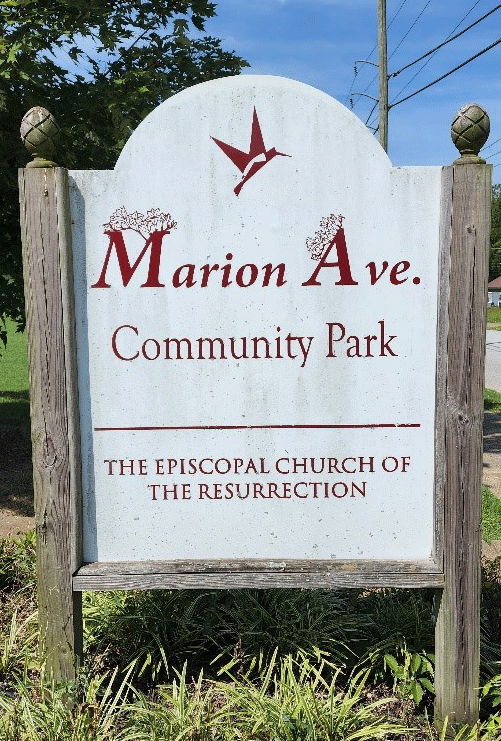 Resurrection is committed to fostering a lifestyle of authentic Christian servanthood for all our members. We provide opportunities to give of time, talent and treasure to the Greenwood community and the larger kingdom of God on earth. Our church gives financially and in kind to several local organizations. But we believe that Christian servanthood is reciprocal, so we have striven to form relationships with the employees of several local organizations and actively support them with our time and talents, in addition to our treasures. To that end, Resurrection has a dedicated Mission Partnerships Committee that coordinates our church's outreach ministry.
Resurrection is blessed to own a beautiful tract of greenspace along Marion Avenue behind the church buildings. We have named it Marion Avenue Community Park as we have joined with our Westside neighbors to cultivate a community garden and recreation space there. The Park has helped Resurrection sustain a life-giving relationship with Macedonia Baptist Church and the Westside Community Club. The area provides space for parish life and formation events throughout the year. Several parish members created a prayer garden in Park, and we enjoy outdoor worship services there regularly. Most recently, through the generosity of Teedie Radford, we have installed a prayer labyrinth in the Park for all to use and enjoy.
Resurrection recently undertook a commitment to support two elementary schools in our community: Mays Elementary and Rice Elementary. A group of volunteers, including present and former public school teachers, maintains a clothes closet from which we donate clothes to children in need attending those schools.
In 2013, by the ingenuity and tenacity of Christine Jayne, Resurrection joined with the Greenwood County Public Library to host and support an afterschool tutoring program, CO3R. Although COVID has suspended our ability to use the Library's rooms, CO3R continues on a smaller scale at Resurrection on Mondays and Wednesday afternoons during the academic year.
Greenwood's Soup Kitchen got its start in the basement of our parish house, and several of our members continue to serve there as volunteers.
Many of our members were involved in the creation of United Ministries and continue to serve there as volunteers.
Resurrection has supported the construction of Habitat houses in several locations and a few of our members are actively engaged in that organization locally.
Most of Resurrection's contribution to its Mission Partnerships comes from fundraisers and our monthly in-kind donation drive, Second Sunday Give. On the second Sunday of each month, we collect in-kind donations for one of our Partnerships coordinated by the partnership liaison. Each year on the Saturday before Mardi Gras, a committee of Resurrection members orchestrates our Beads & Bling event, a silent auction and dinner featuring creole delights, oysters, and, of course, King Cake! Each year on Thanksgiving Day, we sponsor a 5K road race in the Gatewood subdivision coordinated by Kim Russell. Resurrection is a remarkably generous congregation that regularly gives to our Mission Partnerships budget in addition to their support for these planned events.