A Vision for Church of the Resurrection Episcopal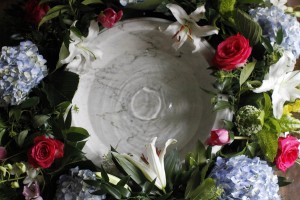 Our parish set out to discern a renewed vision in the summer of 2010. We gathered for meals, walks, oral history sessions, and via survey. As the Holy Spirit worked among us, we sensed the centrality of worship in our common life. From the gathering of Word and Sacrament flows all that we are. As we continue to plan for the future, we make the following our foundation.
Worship is the heart of our life in Christ.
Our Mission
We are a people rooted in worship, branching out into the world.
We offer sacrifices of praise and thanksgiving
Worship
We are a people centered in the praise of the God of Jesus Christ.
Our worship is creative, traditional, and open to all.
Our place of worship, the church proper, is our foremost building priority.
We continually strengthen our music, preaching, and lay liturgical ministries.
Our ministry begins in and returns to our Eucharistic gathering.
We gather in the Lord's Name
Parish Life
Baptism and Eucharist constitute us as the people of God.
We mark the passing of time as Christians, living and celebrating the Christian calendar.
Our physical space makes our major events and feasts enjoyable, memorable, and formative.
We Proclaim and Respond to the Word of God
Christian Formation and Pastoral Care
Our Christian formation programs are rooted in our liturgical tradition.
Our re-imagined programs form us for worship and mission.
Our ancient tradition guides our pastoral care, marking new life, new relationships, and death.
We go in peace to love and serve the Lord
Mission and Stewardship
Our worship forms us for mission.
Our community ministries transform the complexion of our worship community.
We make our neighborhood our parish.
We are led to offer our lives, labor, and treasure as sacrifices of praise and thanksgiving.