Worship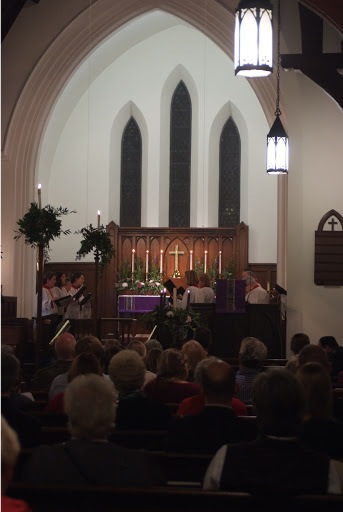 Worship, the praise and service of the Triune God, is the chief purpose of the church. We are a liturgical church, meaning that our worship is guided by the Book of Common Prayer. That book, informed by both Catholic and Protestant strands of Anglicanism, guides us through the seasons of the church year. In our worship, salvation history and the gracious acts of God in Jesus Christ are again made present as we proclaim the Gospel and celebrate the Sacraments. The whole people of God are vital ministers in that work. Below are opportunities to serve in the liturgy, through which Christ is made known to his people. You may contact any of the coordinators named below.
Worship Committee
This committee is composed of representatives of the groups that assist with our worship. Guided by the Rector, it plans liturgy, coordinates schedules, and recruits lay ministers for the groups below.
Altar Guild
Guild members prepare the altar for all services of the church.  They meet on Saturday mornings and at other times during the week as needed.  The Guild's chair is Noonie Fennel.
Adult Choir
Our adult choir sings at 10:30 each Sunday morning and on other special occasions.  The group rehearses on Wednesday evenings from September through May at 7 p.m. and on Sunday mornings at 9:30.  Individuals and smaller ensembles occasionally offer special music at church services.  Our music ministries are led by Director of Music, Donna Brooks.
Children's Choir
Our music director, Donna Brooks, also leads children from first through fifth grade in a study of church music.  They meet on Thursday afternoons, during the school year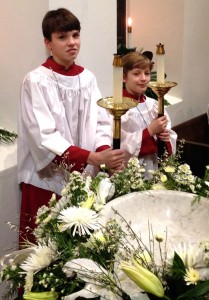 from 4:00 – 4:45.  The students are taught basic music theory, liturgy and history as well as hymns which they perform bi-monthly during the second Sunday morning service.
Eucharistic Ministers / Lectors
Members of the congregation assist with the liturgy by reading Scripture, leading the prayers of the people, and/or serving as chalice bearers.  EMs are trained by the Rector and licensed by the Bishop.  Beverly Hall Wilson is the coordinator for these ministries.
Ushers
Lay members welcome worshipers, distribute bulletins, and assist with the Offertory and Holy Communion at both services and on special occasions.  Ushers are coordinated by Adrian Little.  Greeters are coordinated by Barbara Brock.
Acolytes
Younger members of the parish carry the crosses and torches in procession and assist the celebrant at the setting of the table and the administration of the sacrament.  Young people in 3rd grade and up are invited to participate.  Norm and Roxy Fawcett are our acolyte trainers and coordinators.
Baptism, Confirmation & Reception
The sacrament of Holy Baptism is offered on significant Sundays of the year.  Confirmation and Reception are offered once a year, when our bishop visits. These are means of joining our church or growing into one's baptismal promises. Contact the church office for more information.